Unity for Automotive, Transportation & Manufacturing
Unity Industry offers a comprehensive range of tools and solutions that enable developers to construct personalized real-time 3D encounters for AR, VR, mobile, desktop, and web applications, catering to various sectors like automotive, energy, manufacturing, retail, engineering, and beyond. Tap into the potential of 3D and CAD data to bring your ideas to life, expand their scope, and verify their feasibility.
Discover how industry leaders are embracing real-time 3D technology to change the way they design, engineer, manufacture, market and maintain their products.
Watch Video
Want the scoop on how real-time 3D technology is transforming the industrial market? Check out a commissioned study conducted by Forrester Consulting on behalf of Unity, published in March 2020.
Get a comprehensive suite of real-time 3D products and additional services that make it easier and faster to develop immersive, interactive experiences across the entire product lifecycle – from design through manufacturing, marketing, and after-sales service.
The real-time development platform of choice
Unity is the most versatile and widely-used real-time 3D creative development platform for visualizing products and building interactive and virtual experiences.
True flexibility
The Unity platform is unmatched in extensibility and ready to be adapted to current and evolving needs with a powerful C# scripting system, comprehensive API and extensive documentation.
Rapid creation
With its intuitive UI and tools, Unity makes it easy to jumpstart a working prototype and bypass spending time on low-level programming. Changes are easy and instant through the magic of real-time, making it easier to create and iterate.
Rich interactivity
Unity includes a robust and well-documented API with access to the complete range of Unity systems, including physics, rendering, and communications to enable a rich interaction model and integration with other systems.
Optimal graphics performance
Unity's Scriptable Render Pipeline provides total flexibility for graphics optimization. The High Definition Render Pipeline (HDRP) offers world-class visual quality on high-performance hardware while the Universal Render Pipeline maintains responsive performance when scaling for mobile.
A massive catalog of assets and tools
The Unity Asset Store gives you access to the largest marketplace of off-the-shelf assets and productivity tools to jumpstart your project. These building blocks cut down on development time to get you up and running and across the finish line faster.
Innovation is a core principle at Audi. With Unity, we create and deploy immersive, real-time interactivity to accelerate team collaboration and speed our pace of development and innovation.
At Toyota, we use Unity to develop VR and AR tools to improve efficiency and quality for design, engineering, and training. It's a really flexible platform, supporting the VR/AR devices we require.
Accelerating innovation across the product lifecycle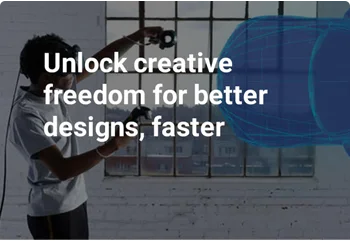 Design Visualization
Enable rapid prototyping and iteration on designs, at scale and in an immersive, interactive 3D environment. Nothing gets lost in translation when product designers and engineers are able to seamlessly collaborate on common virtual ground.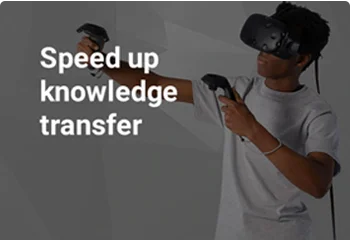 Training and Guidance
Speed up and increase the efficacy of knowledge transfer with immersive, interactive training applications that maximize safety while eliminating dependency on physical proximity or materials, resulting in reduced training and travel costs.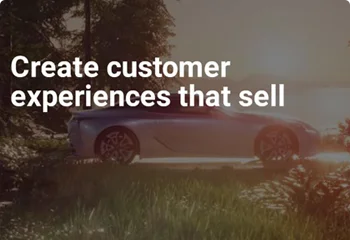 Sales and Marketing
Create rich, high-fidelity scenarios such as online car configurators and virtual showrooms that immerse customers in the product experience and buying process, driving higher levels of emotional engagement and increased sales.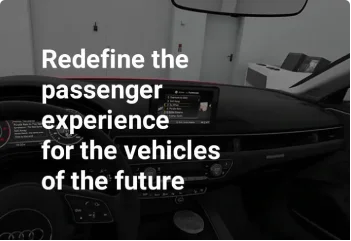 HMI Development
Redefine the passenger experience for the vehicles of the future. With Unity, you can seamlessly connect HMI development processes from research to design and deployment.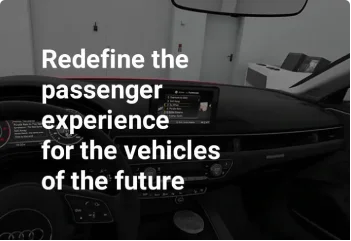 Autonomous Vehicle Training
Drive billions of virtual miles before ever putting a car on the road. With Unity, you can create virtual environments to train autonomous technology and AI through the simulation of real-world scenarios that allow you to optimize algorithms without physical or corporeal risk.
Learn more
Learn how Lockheed Martin, Volkswagen, INFINITI, the U.S. Air Force, and other industry leaders reduce product design costs, improve training and maintenance, and deliver more engaging customer experiences with mixed reality.
Learn how real-time 3D and VR are radically transforming the car industry, including the eight use cases that are becoming industry standard throughout the automotive workflow.
In this eBook from Tech-Clarity, get valuable insights from experts at Ford, Audi, Teague, Team One, and more on the incredible impact of real-time 3D across automotive marketing and sales, product design, R&D, engineering, manufacturing, and training.
See how PiXYZ best-in-class CAD-import solution and Unity's real-time rendering tools can quickly bring great ideas and products to life. You'll learn how to seamlessly import vehicle CAD data directly into Unity, and then prep, optimize, and review complex designs.
Learn how a small team achieved jaw-dropping results in no time at all through CAD data import, prep, optimization with PiXYZ, Asset Store packages, and real-time rendering with HDRP in Unity.
Learn about Unity's product vision for automotive, transportation, and manufacturing, including overviews of newly announced products.
Unity and PiXYZ software have joined forces to provide large enterprises and individual professionals alike with best-in-class solutions to easily import and optimize CAD data for creating real-time experiences in Unity.
GOT ANY QUERIES?
We are here to answer