Unity Animation Software for Film & Cinematics
Unity software has proven to be a versatile tool extending beyond game development, finding valuable applications in the film, animation, and cinematic industries. Its adoption by filmmakers and animators is driven by its capacity to craft breathtaking visual effects, conduct realistic simulations, and construct captivating and immersive storytelling experiences.
Create. Iterate. Collaborate. In real time.
Unity brings real-time workflows to animation content creators – speeding up traditional pipelines and giving artists, producers, and directors more opportunities for creative freedom, fast feedback, and artistic iteration on a flexible platform. With Unity, real-time production is a reality.
Why Unity?
More creative iteration
Unity's real-time platform gives unprecedented creative freedom over traditional rendering pipelines. By realizing your vision as fast as you can create it – instead of waiting hours or days for rendering – you remove all barriers to artistic experimentation.
Wider integration
Pipeline devs can work with Unity out of the box or create a real-time workflow custom-made for a project using the broadest platform support available alongside extensive DCC compatibility and highly versatile scripting tools.
Faster production
With shared compositions, accelerated rendering, and plenty of options to automate the non-creative tasks in between, Unity makes it possible to deliver shots, scenes, or entire episodes in days instead of months.
Smarter decision making
No more discovering mistakes too late – or agonizing over another decision to fix an error in post. Unity equips creators with the ability to see how your shot looks in the scene, right alongside the artist tools designed to easily make the tweaks you need.
Creation at scale
Meet the growing demand for content on every platform. With the ability to build, reuse, and easily iterate large volumes of assets in Unity, you can create an element once, then recreate or integrate it easily in all your related projects.
Smooth collaboration
Unity makes it possible for artists at every point of the pipeline to share the same project and see their changes immediately. Change once, see everywhere, and reduce errors and miscommunication.
Get more from your animation pipeline with Unity
A complete episode every week
Treasure Trekkers
The series creators at B. Water Studios show how they optimized their pipeline to deliver each episode faster and develop assets at scale – while reducing costs by nearly 40%.
Watch Video
From months down to days
Hero Dad
Wise Blue producer and founder Nathalie Martinez explains how Unity's collaborative workflows allowed animation processes to take place simultaneously, so the project finished faster and the studio could take on more work.
Watch Video
The breakthrough speed of creative iteration
Neill Blomkamp's ADAM
Go behind the scenes with the highly celebrated Oats Studio to see how the team produced a project in five months that would normally take close to a year using traditional rendering.
Watch Video
Real timesavers for every artist in the studio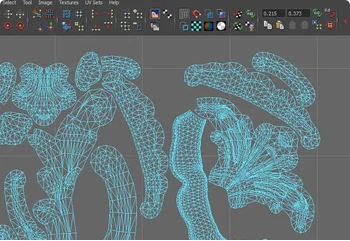 Integrate with your DCCs of choice
Exchange models, animations, cameras, lighting, and FX between Unity and most digital content creation tools. With Alembic, USD, and FBX workflows, you can work in real-time with the same formats as your asset pipeline and use the right file for any job.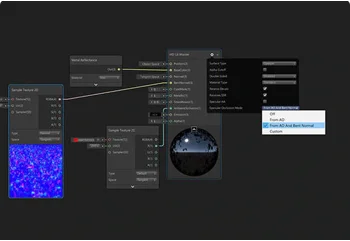 Render beautiful visuals
Cinematic shots are in reach, even in real time. Unity's High Definition Render Pipeline (HDRP) puts professional lookdev and VFX tools in your artists' hands, like physically based rendering, real-time ray tracing, visual shader creation, and next-level effects simulations.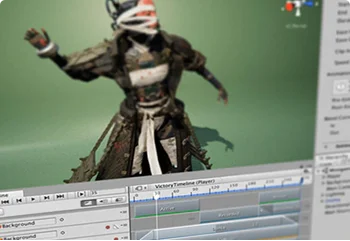 Animate and edit with familiar toolsets
Control, experiment, and perfect how lights, cameras, and action come together in a scene. By orchestrating timing, angles, movements, and cues in real-time with the flexibility of Unity's editing and sequencing tools, artists can bring their creations to life without coding.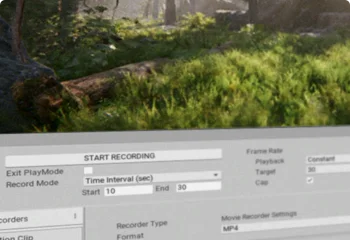 Record final frames as fast as you watch
You don't have to wait for a render farm to deliver high-resolution video clips, validate image sequences, and easily generate multiple versions of your content. Get dailies out faster, shorten review cycles, or export for compositing, all with Unity's lightning-fast recording tools.
Give your artists the tools to work in real-time
Unity for look development
Design any 2D or 3D look with our highly scriptable render pipeline & Shader Graph. Real-time rendering gives you faster feedback throughout lookdev, & changes you make to your assets will propagate instantly anytime in production. Render 4K resolution in milliseconds.
Watch Video
Unity for layout
Lay out your scene with richer context, responsive real-time lighting & look dev to make more informed creative decisions. Increase productivity by 50% thanks to Unity's Timeline editing & Cinemachine camera features, plus smooth DCC interoperability with FBX & Alembic.
Watch Video
Unity for lighting and compositing
Change lighting effects throughout production with sophisticated features like volumetrics, along with built-in post-processing tools to grade colors in real-time and ensure perfect pixels. Turn dailies into work sessions - at near-finished quality - with faster iteration cycles.
Watch Video
Working in Unity's real-time engine allowed me to give feedback and visually see changes on the spot. This frees up time to focus on story or other aspects of production.
Production-wise, we dramatically reduced render time, which is now practically real-time. Unity also allowed us to streamline our workflow, reducing iterations and resources.
We can create lots of content quickly while retaining high quality owing to reduced render times and a shortened feedback cycle – we can show clients changes in real-time.
We learned as we went and at first it took a few weeks to get the environment to the quality we needed. Now we can create a full 11-minute episode every week!
I love the fact that I can touch every facet of audiovisual storytelling in one place, at the same time. The simplest way to describe working in Unity is pure creation.
Unity's greatest asset is giving creators the flexibility to explore ideas and visuals in the blink of an eye. It opens up a world where exploration and play result in a better product.
Unity is a dream. The flexibility in Unity enables savvy artists to realize ideas that would be logistically prohibitive in other engines.
Add real-time creation to your studio
Unity software licensing for animation studios
The world's leading real-time 3D creation platform enables animation teams to be more productive together.
Unity Professional Services and support
Minimize downtime and leverage the Unity platform's full potential with services optimized for your pipeline.
Unity Premium Learning and custom training
Get hands-on training for the artists in your studio from pre-production to final render, online or on-site.
Ready for real-time?
From workflow and integration to training and support, we can help you with everything you need to transform your pipeline for real-time creation.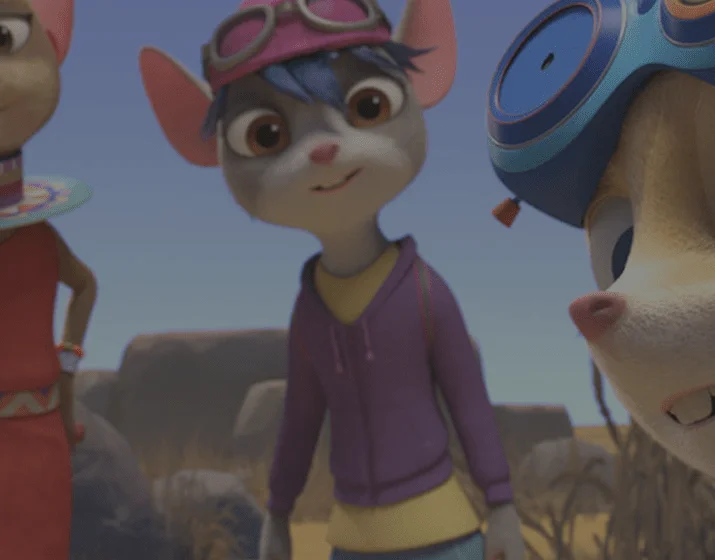 GOT ANY QUERIES?
We are here to answer